Many people prefer to install Corian countertops in their kitchen. That's because Corian countertops have a sleek and clean look to them. They are perfect for kitchens and bathrooms.
Did you know that you can clean Corian countertops with vinegar? In our guide about how to clean Corian countertops with vinegar, we will explain to you how you can do just that.
As you're probably aware, Corian countertops require a fair bit of maintenance (like regular cleaning), and various types of protective measures to prevent damage.
Just invest a little bit of time into cleaning and maintaining it, and we can assure you that it will serve you for years.
Can you use vinegar on Corian?
You might be wondering whether or not you should use vinegar to clean your countertop. After all, vinegar can be abrasive in certain cases.
But there is no need to worry. You can safely use white vinegar in order to clean the Corian countertop. In fact, white vinegar is so mild that it can even be used to clean the floors in your house.
And it is one of the most effective ways to remove rust and stains off the countertop. Why is it so effective? The reason is that white vinegar is the best cleanser for your countertop.
Alternatively, you can use commercial cleaners or cleaners that are ammonia-based to clean the Corian countertop. These cleaners are quite effective at removing hard water stains and other types of stains sustained by the countertop.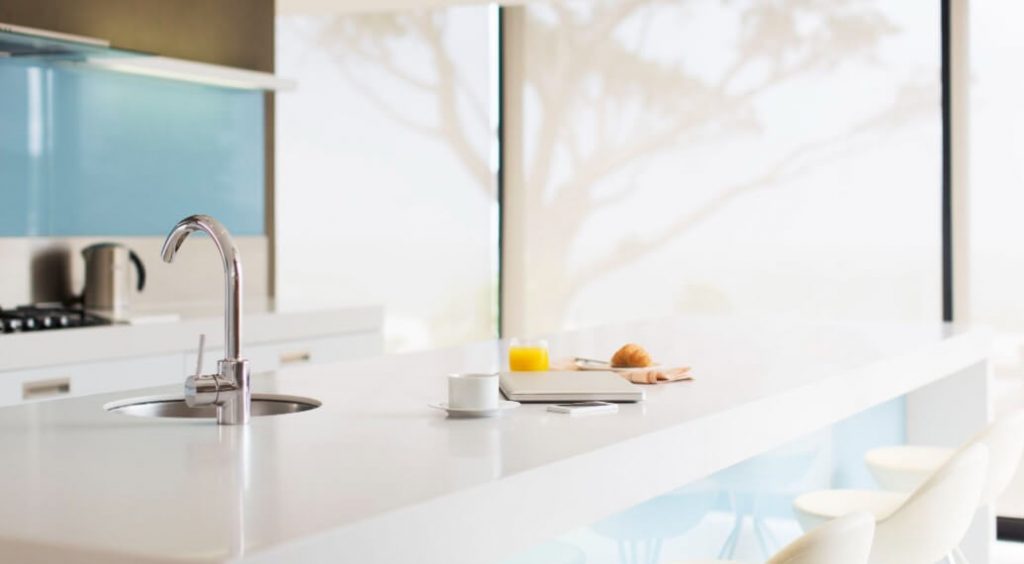 How to clean Corian countertops with vinegar?
Corian countertops are naturally beautiful, durable and they are also quite hygienic. Therefore, it's ideal for kitchens. But they require regular maintenance and cleaning.
But the best part about Corian countertops is that they are non-porous. This means the food, dirt, and germs sit on its surface and they do not penetrate the surface. That not only makes it hygienic but also makes it easy to clean.
Typically, the countertops that have a darker color tend to show scratches and stains more than the ones with lighter colors. We will show you the entire process of keeping your countertop clean. But before that, you'll have to get the tools ready that are required for cleaning.
You'll need white vinegar, water, a microfiber towel. We recommend you use the microfiber cloth instead of the regular cloth.
With all that said. Let's look at the steps that you need to follow:
(1) For the grime, dirt, and food residue that gets stuck on the countertop daily, you can wipe them clean by using a soft cloth or a wet sponge that's dipped in soapy water.
(2) For the hard water stains, and nasty spills, you have to at first wipe the surface by using a clean soft cloth. This will take out the excess dirt from the surface.
(3) In case you've spilled something on the Corian surface, you have to use the five-second rule and start wiping it down in that instant. That will prevent the surface from getting badly stained.
(4) Now take a bowl and white vinegar and water in it with a 1:1 ratio. And then soak a microfiber cloth into it.
(5) Wipe the entire Corian countertop surface using the cloth dipped in white vinegar. Do this multiple times and keep dipping the cloth in vinegar if you have to.
(6) If the dirt still persists, take an ammonia-based spray and spray it all over the stubborn dirt.
(7) After that rinse the area with a wet cloth.
(8) Take another bowl and mix a small amount of bleach with some cold water.
(9) Submerge a sponge or a rag into the bleach and wipe the surface with that solution. This is done in order to disinfect the surface of your Corian countertop. Although white vinegar has some disinfectant properties, using a bleach solution is a better option.
Removing Burns, Stains and Scratches from Corian Countertops
Although using white vinegar on your Corian countertop will clean the dirt away from it, it'll still have any burn marks or scratches that it might have sustained. You have to remove them as well.
Here are the steps you have to follow:
At first, you have to take care of those chalky white hard water stains. You'll find various cleaners on the market that are specifically made to remove these sorts of stains. Use one of those to clean them.
You can also use vinegar or lemon juice to clean the hard water stains if you prefer to go with a natural cleaning solution. Spray some vinegar or lime juice on the stains and let it sit for 10 minutes. Then rinse the area.
Now it's time to take out the scratches and stubborn stains using a mildly abrasive cleaning solution. Just pour a little bit of the cleaner on top of the scratched surface and wipe the area with a wet sponge.
After that, rinse the area with warm water. Then wipe it dry with a towel.
And if you prefer to go with a natural cleaning solution, you should mix some vinegar with baking soda. Then lay the paste on top of the area. Wait for some time and wipe the area clean.
Frequently Asked Questions
What is the best cleaner for Corian countertops?
For most types of residue that form on Corian countertops, soapy water, white vinegar or ammonia-based cleaners are quite effective.
How do you restore the shine of Corian countertops?
You can make your Corian countertop shiny and glossy again by using a commercial polish that's made specifically for countertops.
How can I make my Corian white again?
Make a solution of bleach and water with a ratio of 1:1 and then wipe the countertop down by using this solution. As bleach is a whitening agent it will make the countertop white again.
Can you use soft scrub on Corian countertops?
No, you should not use soft scrub on your Corian countertop as that could cause damage to the surface of the countertop.
Final Thoughts
We hope that you've found our article about how to clean Corian countertops with vinegar interesting and helpful. Corian countertops are the best types of countertops out there and the best part about them is that they are quite easy to clean.
As we've shown, a simple everyday kitchen substance such as vinegar can be used to clean it. So, what are you waiting for? Get that countertop cleaned as soon as possible!
Resources:
https://www.corian.com/-use-care-