Are you facing stain problems lately? And do you ever faced oil-stain problem on granite? If you faced it and want to know the hacks of getting rid of it, then you are into a right place.
You need to know how to remove oil stain from granite. It is because if the granite surface has any stain then it will look ugly and dirty. And when you are using it regularly, it's obvious to have these kinds of stains.
So, to avoid it, you need to know about the oil stain removing techniques. Let's check what the techniques are, and how they work effectively.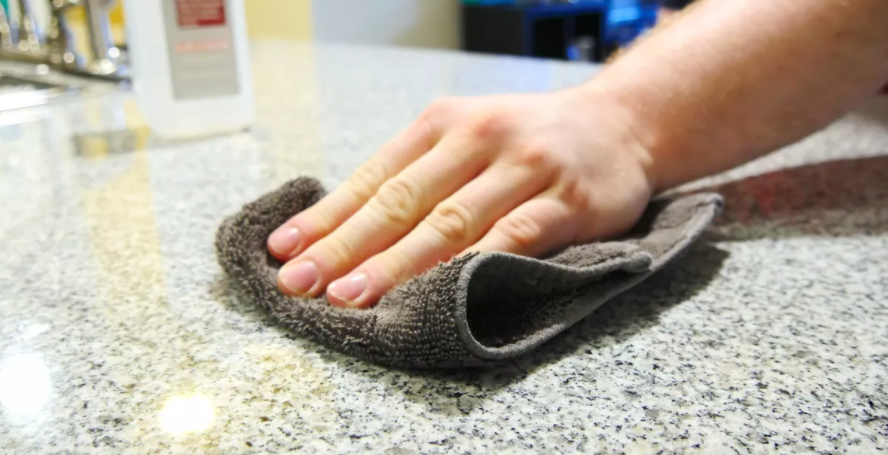 How To Remove Oil Stains from Granite? – 10 Simple Easy Steps
A lof of methods you can find in this digital world. But we are trying to give you the best methods that will give you effective results in a quick way.
And when it's about how to remove oil stains from granite, all you need to learn about the fast techniques, and the steps nicely. So, let's get in and know what the best methods are.
1. Oil Stain Remover
The fastest remedy is oil stain remover. It is easy to use that can give you useful and fast result. So, if you are going to use this, you don't have to take any tension about its effectiveness.
And to eliminate grease or oil from granite, you should use oil stain remover. Besides, the application of it is super easy. So, it will be another advantage of it.
Moreover, Greased Lightning stain remover is also a good option for this purpose. And to use it, simply take the remover and apply it on the stain by using a cloth.
Keep rubbing the stained area until you get your desired result. You can also use a plastic sheet to cover the area and the let it be soaked overnight.
The another trick is to use acetone. It has those properties that can remove any kind of tough stains easily. So, you can also use it for this purpose.
2. Baking Soda
Baking soda also has some good qualities that can take all the oil stain out from the granite.
When oil is soaked well on the granite, it will leave a tough stain. And baking soda can help you out to remove this kind of tough stains.
So, for using baking soda on that stain, take a generous amount of soda and cover the entire area with it. You can also add acetone for a better result.
After that, wait for a few minutes, so that, the soda can absorb all the oil of it. Now, take a sponge and scrub the place nicely. Use some water for a better application.
Now, let it be dried and then take the excess out of it. You will see the difference at that time.
3. Dishwashing Soap
Using dishwashing soap or liquid is another good method you can try. It will not only take the oil out from granite but also clean it well.
So, that's why you can totally use dishwashing soap. And to do it, you will need three table spoons of Blue Dawn dishwashing soap and mix it with one cup of unbleached flour. You will also need to add water to make a thick paste.
Now, apply it on the surface of granite and cover the stain well. Allow it to sit overnight. And then, clean it as usual.
4. Bleach
If you want some bleaching solution to clean the oil stain from granite, you can do it. But you have to do it perfectly by maintaining the quantity of every ingredient.
First of all, you need to add an equal amount of bleach and water with some poultice powder. Make sure you mix it well to make a thick paste of it.
Now, apply this paste on the stain and cover it nicely. After that, take a plastic sheet and cover the paste area well.
Then, let it be there for a day, and then pull the plastic off. And then, again let it be set for another day. That's how the stain will go away.
5. OxiClean
You can also use OxiClean for doing the oil stain removing. It can easily remove strong stain from the surface of the granite. It also has a speciality to remove red wine stain quickly.
So, you can apply this method for oil stain too. And to apply it, simply take OxiClean and mix a little amount of water.
Now, you can simply spray it by pouring in a spray bottle. Or, you can use a brush or a toothbrush.
Take a brush and dip it into the mixture. After that, brush the stain and leave it to dry for some hours. And after that, wipe out all the excess.
6. Ammonia
Ammonia is also an ingredient that works magically to remove any kind of tough stain. So, you can also use this element to remove the oil stain from granite.
And for doing it in a right way, take ammonia in a generous amount and mix any kind of powder like chalk or rice flour and mix it well to make a thick paste.
After that, do the same thing as before. Cover the stained area with this paste and leave it to sit, and dry well for some hours. Then, clean the area and you can see the stain-free surface.
7. Baking Powder
Make a paste of baking powder and water. You can also use acetone with it for having a better result.
After making the paste, now you have to apply it in a nice way and cover all the area. Now, take a plastic sheet to cover the area and leave the paste inside it.
Another thing you can do. And that is to use a hot towel and put it on the plastic sheet for some hours. And after that, remove the towel and the sheet. And clean the area well.
8. Shout Gel
Shout gel can also be a good element to do the oil stain removing. And it is also easy to apply.
All you need to do is, take the gel and apply on the granite. Make sure you cover all the stained area with it.
Massage it for a while and then wipe it out with a wet cloth. You can also leave the gel on the granite surface for some time to soak. But you need to make sure if it doesn't make any discoloration to the stone.
9. Cornstarch
Just like, baking soda, baking powder, flour and other kind of powdery stuff, you can also use cornstarch for removing the oil stain.
You can make a paste of it or you can also use just the way it is.
Just sprinkle the powder on the area and allow it to sit for some hours. Make sure the cornstarch must soak the oil completely. And after that, clean all the residue.
10. Baby powder
You can also use baby powder if you don't have any other powder near you. Just make sure you use it properly.
The using process is almost the same. Take the baby powder or any kind of talcum powder and sprinkle all over the area. Now take a brush to rub it nicely.
And then, take some time to soak all the oil from the granite. After that, take a cloth and remove all the residue and make it properly cleaned.
Final Words
As you can see, we describe some of the easy-to-do techniques with you. We hope that you can get all the steps properly.
The first thing will be the learning about how to remove oil stains from granite. And if you know the hacks and techniques well then you can surely execute it properly.
So, get the processes and apply any of the method to have a clean and stain-free granite surface easily.