Who doesn't love saree? I guess every woman does. And if it is of silk, then it becomes the most precious saree of yours.
But if it has stained by oil then what will you do? At this time, you need to get the knowledge about how to remove oil stains from silk saree.
And following the methods and processes of it, you have to remove the stains. To know more about it, check the process of doing if first.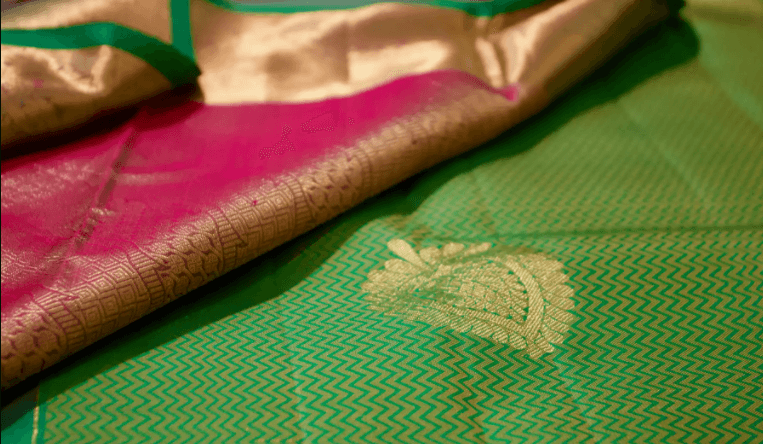 How To Remove Oil Stains From Silk Saree – 6 Easy Step
When it's about your precious silk saree, you need to take careful steps while cleaning any kind of stain. And if it's oil stain, then things will be more complicated.
The reason is, oil stains sit fast. But you can remove the stains if you give some effort to it. You need to know how to remove oil stains from silk saree and all the other stuff too.
Well, let's check all the procedures and the steps well to learn it properly.
Ingredients you will need:
Baking soda
Salt
Liquid soap
Cornstarch
Talcum powder
Distilled water
And dry cleaning kit
Step 1: Prepare
Well, the first step will be preparing all the ingredients and equipment too. And if you do it then the entire procedure will be much easier.
And to do that, arrange all the ingredients that you are going to use. Also, take the alternative elements too. It is because you might need it if the stains don't want to go.
Besides, take the harder equipment like bucket, spoon, brush, and even dry cleaner and arrange them too. Make sure you won't face any problem or any interruption while doing the process.
So, arranging all the things in a place where you are going to remove the stains is necessary. Also, take that stained saree and place the stained area on a table.
You have to make sure if the other parts of the stain won't mix up and get wet. Otherwise, it will cost you more.
Step 2: Make the solution
After arranging all the things in place, now you have to make the solution first. It is because if you do it, then it will be easier to execute the entire process.
So, at first, mix some absorbent ingredients like baking soda, salt and cornstarch together. These three powdery things need to be mixed together to apply on the stain.
So that, it can absorb the oil easily. Any one type of element will be enough. But mixing the three ingredients will give you better results for sure.
Step 3: Apply
Now, apply the mixture on the affected area well. And you have to make sure that the entire stained area must be covered well with that mixture.
And in that way, you need to apply it in a proper way.
Step 4: Soak
After applying the powdery thing on the area, now you need to leave the saree for soaking.
Make sure you won't use any kind of water on it. The entire area should be covered with only this dry solution.
But you can also add talcum powder with it if you want. It also helps to soak as much oil as possible. Just apply and cover the stain well.
And then leave it for several hours. The more you soak, the better the result you get. So, keep that in mind.
Step 5: Brush off
After several hours, it's time to brush off the powder. And while doing that, make sure you won't do it in a tough way. Otherwise, the fabric of that precious silk will be damaged.
Just be gentle and do the scrubbing in a gentle way possible.
Though the material is delicate, you need to be careful about it. And after fully brush the residues off, you will see the oil stains start fading away.
And when the stain is almost gone, you need to stop doing the scrubbing at that time.
Step 6: Repeat
But if you see no such difference, then you need to repeat the processes. Generally, new oil stains are easy to remove. The reason is, the stain is still wet and isn't settle on the fabric well.
So, it will be easier to remove. But if the stains are old, then it will be difficult to remove. But that doesn't mean it is impossible. You can try this method on this and get better results.
And if the stains are tough, you can do two types of things. The first one is to dry cleaning it. You can do it in laundry by any professional cleaner.
Though it is a delicate fabric, we won't recommend this thing to you. But if you have a dry cleaning kit, then you can do it at home. It will be better to remove stains quickly.
And the second suggestion is to make a liquid solution and apply it. And the element is liquid dishwashing soap. Pour some of it on the stains and let it be soaked for a few minutes.
After that, clean it with water. You can use distilled water for better results. It won't make any water spots on the saree. So, make sure you do it if your stains are stubborn and tough to remove.
Step 7: Dry
The final step will be drying. You can use any kind of dryer for this purpose. Also, you can use hair dryer too if you have no dryer available around you. Both will work in the same way.
If you do dry cleaning then doing it with the dry cleaning kit will be better. But if it is the other method that you are following, then you can dry using a hair dryer.
Make sure the heat doesn't cause any damage to the silk. And if you want any suggestion, then we would recommend you to sun-dry it. As it is silk, drying in the sun will be appropriate than any electric dryer.
Also, the heat of the sun will take away all the remaining stains too. So, it will be the best option for sure.
Pro Tips For Removing Oil Stains From Silk Saree
Don't be too harsh but be gentle on silk fabric
Take much time for soaking, and it will be the best if you soak it overnight
Sun-dry is effective but make sure it won't be for too long
You can take only the stained area and tie it so that, it will be easier to work with that part that is stained
Avoid using water if possible
Final Verdict 
Silk is a classic and delicate material of fabric. That's why it's important to know all the procedures in a correct way. And that's why you need to know about how to remove oil stains from silk saree.
Get the idea well, and make sure you won't damage the fabric anyhow. The entire process should be with a light hand.
So, keep all the things in mind and then execute it if you have oil stains on your favourite and precious silk saree.
Also, don't forget to share your thoughts about it!